Commercial Lockout San Diego CA
Commercial Lockout San Diego – Emergency Commercial Locksmith Services
Have you ever made it to your office or store and the lock is not opening? Different things can effect your lock: weather, door condition, old locks. These factors can make your day start off on the wrong foot. It can also be that you or one of your employees forgot the door key at home, maybe you steeped out for a minute and the door slammed shot behind you. There are endless scenarios, but you should never have to panic or let it ruin your day. Your San Diego CA locksmiths can quickly and effectively assist you at a moment's notice! Our 24 hour locksmith team works diligently to ensure that your commercial property is protected at all times. Our commercial locksmiths are skilled at rekey locks, change locks and opening door locks when you've been locked out of office. We understand all scenarios and are more than happy to get you out of the rut!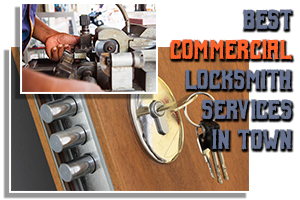 Possible Scenarios to Seek Emergency Locksmith at San Diego CA locksmiths :
You arrive at work and find the front or glass door locks have been damaged
You forgot your work keys at home
You want to upgrade your businesses locking system
Due to the unique nature of your business you want to install panic bars, alarm locks or dead bolt
Call us at 619-489-7255 if the above situations listed have occurred, or need other commercial locksmith assistance!